What is ROS?
Real-time Online earthquake Simulation system (ROS) is an infrastructure to make the online earthquake simulation feasible. This system is highly connected between massively parallelized Spectral-Element Method (SPECFEM3D), high speed network and high performance computing. Users can make their own earthquake simulation by giving a set of source parameters through the ROS webpage. The visualization of ShakeMovie will be done simultaneously during the simulation and the ShakeMap will be produced once the simulation is finished. The time needed for one simulation is roughly less than 5 minutes and can be substantially reduced in the near future.
The ROS earthquake simulation service is still under testing, but it is ready to be open for people who would like to practice online now. The long-term goal for the ROS system is to contribute to the public earthquake science education and to realize ground motion prediction in real time.
ROS Cloud Computing Pathway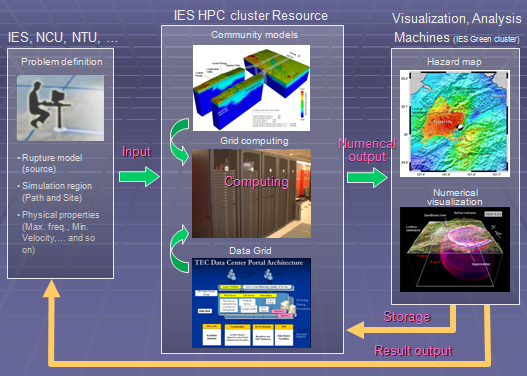 ¡@
RMT, ROS and RCS
Real-time computational seismology is currently possible to be achieved which needs highly connection between seismic database and high performance computing. We have developed a real-time moment tensor monitoring system (RMT) by using continuous BATS records and CMT inversion technique. The real-time online earthquake simulation service is also ready to open for researchers and public (ROS). Combine RMT with ROS, the earthquake report based on computational seismology can provide within 5 minutes after an earthquake occurred. For more information about this study, welcome to visit real-time computational seismology earthquake report webpage (RCS).
¡@